Healthy Fruit Smoothie Recipes to Help You Lose Weight Fast
These healthy fruit smoothie recipes are delicious, and incredibly easy to make.
As they contain only a few fruits of similar colors they're easy to remember with no need to refer to a long list of ingredients.

Health Benefits of Fruit Smoothies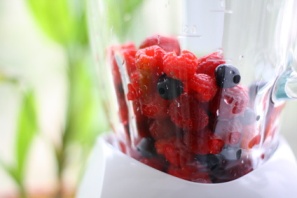 Unlike a juice diet, with smoothies all the fiber in the fruit is retained - and you will probably have to add water to get a drinking consistency. The vegetable, when used, should provide a blander bulk to the smoothies and complement the taste of the fruit.
Add some fresh aloe vera , about ¼ - 1/3 of a leaf depending on size, right at the end and just blend for about 10 seconds. The aloe vera gives a slightly gelatinous, smoother consistency to your smoothie and although aloe vera has a reputation for its bitter taste, it should not affect the taste of your smoothie.
So there you are - a healthy aloe vera smoothie made from delicious fruit of your choice. It shouldn't take more than ten minutes to prepare your smoothies for the day, depending on how much fruit preparation you need to do.

All you have to do now is drink your smoothie throughout the day as part of a healthy diet plan. If you prefer have a light herbal tea in the morning and start drinking the smoothie mid-morning.
If you need a solid breakfast have a small banana too. It might be surprising, but I never blend bananas into my smoothies. I prefer to enjoy them as a satisfying solid snack a couple of times a day. Take a look at these banana nutrition facts to see why bananas make the perfect snack food.
Some great fruit smoothie combinations!
Here are some great ideas for healthy fruit smoothie recipes to get you started:
ORANGE
GREEN
RED
PURPLE
Take a look at the smoothie tips for some great ideas on making a healthy smoothie.


How to Make Fruit Smoothies

Return from Healthy Fruit Smoothie Recipes to the Soup and Smoothie Homepage