Blueberry Smoothie Recipe
This blueberry smoothie recipe with fresh cantaloupe melon and pear is yet another easy to make smoothie recipe.
As you might have guessed by now I'm a bit of a fruit smoothie purist! But sometimes the simplest recipes really do turn out best and when I'm using a dark berry like blueberries or blackberries I prefer to keep them as the dominant flavor.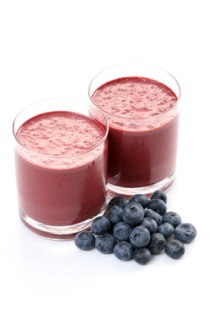 These dark blue berries just cry out for a white or neutral fruit to go with them and what could taste better than pear or melon.
Blueberries are usually very sweet and when combined with the additional sweetness of a juicy pear you get the benefit of not only a great tasting blueberry smoothie but one that zings with vitality.
Long known as nature's "super fruit", a blueberry smoothie is rich in vitamins and antioxidants. Despite their great flavor, there are few calories in blueberries compared to many fruits.

Preparation Time 10 minutes
Ingredients
2 handfuls of fresh or frozen blueberries - approx 50g
2 ripe pears - peeled, cored and roughly chopped
1 large slice sweet honeydew Melon - approx 250g
Aloe vera gel - approx 200g
Ice/iced water

Directions
Combine fruit in blender or smoothie maker. Add a dash of ice water for easier blending. Blend until smooth and creamy.
Add filleted aloe vera and blend for a further 10 - 15 seconds.
Add ice or ice water to achieve desired consistency
Pour smoothie into glass and serve
Store remaining smoothie in covered glass jug in refrigerator for later
Looking for a new blender? Take a look at the features of blenders for smoothies
before you buy.


Return from Blueberry Smoothie Recipe to Fruit Smoothe Recipes


Return to the Soup and Smoothie Diet Homepage