Low Calorie Watermelon Smoothie

This refreshing watermelon smoothie recipe is again one of my favorites. It's very quick and easy to make in any blender or smoothie maker , especially if you use frozen strawberries and raspberries.


Naturally low in calories, this red smoothie is especially rich in nutrients and has wonderful health benefits if you drink it regularly.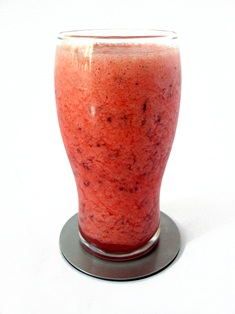 The recipe can be adapted very easily to whatever fruit you have available. Keeping the juicy watermelon as your liquid base, you could use any combination of berries – strawberries, raspberries or cranberries for example. I sometimes replace the strawberries with the flesh of 3 or 4 fresh mangosteens for additional health benefits

Don't get too tied up in the exact quantities of fruits. You might want to weigh the fruit the first couple of times you make each smoothie recipe, but after that you should be able to estimate the quantities quite easily. Keep a notebook handy so you can jot down any changes you make to the recipe of new fruit combinations you try.
Preparation Time
10 minutes

Ingredients
Approx 500g seedless watermelon chunks (about 1/10 large watermelon)
Approx 100g fresh or frozen strawberries (about 2 handfuls)
Approx 100g fresh or frozen raspberries
Approx 200 – 300g fresh aloe vera
100- 200 ml iced water

Directions
1. Blend watermelon first with a few splashes of ice water - enough water to allow the watermelon to blend easily.

2. Add the berries and blend until smooth.

3. Add the aloe vera last and blend for about 10 seconds.

4. Add enough iced water to obtain desired consistency

Drink and enjoy!




Return from Watermelon Smoothie Recipe to Healthy Fruit Smoothie Recipes

How to Make Fruit Smoothies

Learn more about the Benefits of A Rainbow Diet


Return to the Soup and Smoothie Diet Homepage