How to Make Fruit Smoothies

Do you want to know how to make fruit smoothies the simple, foolproof way?

Making fruit smoothies is easy if you choose your fruit based on a single color, following the principles below. If you plan on using some frozen fruit in your smoothies take a look here for tips on how to freeze blueberries or other berries and here for tips on freezing fresh fruit in general.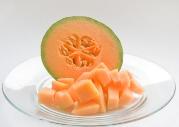 You will need

a juicy fruit for the liquid base
a rich, soft fruit for added flavor
a vegetable or blander tasting fruit
fresh aloe vera
water/ice as necessary


blender of your choice - anything from the most basic to the most powerful model available will do the job at this stage!

How to make fruit smoothies

1. Take any frozen fruit you are using out of the freezer first so it has chance to soften slightly while you prepare the fresh fruit
2. Chop all fruit into roughly similar sized pieces for easy blending
3. Fillet fresh aloe vera leaf (if you have one). Check here for step-by-step instructions on how to fillet aloe vera to make aloe vera juice or to use in your fruit smoothies
4. Blend fruit in blender or smoothie maker according to manufacturer's instructions. Look at individual smoothie recipes to see the order in which to blend your fruit. If I'm using carrots or hard fruit such as apples I always blend these first with a small amount of liquid (juice or iced water) as they take longer to break down.
5. Blend until really smooth – slowly add ice water to make blending easier and to achieve desired consistency.
6. Add the aloe vera right at the end and blend for about 10–15 seconds or until all the chunks of flesh are broken down
7. Pour slowly into glasses or jug. You may find a few pieces of fruit towards the bottom of the blender – just give these another quick whizz for a few seconds to puree them before serving.
Schedule Making Fruit Smoothies Every Day!
I usually make one full blender, about 800 - 1000ml, to last throughout the morning. This gives me about 5 small 200 ml glasses, 2 of which I usually drink for breakfast.
I just keep the remainder in a glass jug in the fridge until I need it. So long as you keep your smoothie in an airtight jug in a cool, dark place it will keep for up to 24 hours without affecting the taste or nutritional value.
Once you know how to make fruit smoothies the easy way, find the time of day that's best for to make your smoothies. If I know I have a busy morning the next day, I often make fruit smoothies the night before.
Or when I'm working part-time I like to make them in the afternoon, when I get home. That often means I get the benefit of two color choices in a day as I will find myself drinking a red smoothie in the morning and an orange smoothie in the afternoon.
Try it - it's a great way to consume an even wider range of nutrients as part of a healthy diet plan!


Watermelon Smoothie

Mango Orange Smoothie

Orange Pineapple Smoothie

Kiwi Melon Smoothie

Blueberry Smoothie Recipe

Return from How to Make Fruit Smoothies to How to Make a Smoothie

Return from How to Make Fruit Smoothies to the Soup and Smoothie Diet Homepage