Refreshing Kiwi Melon Smoothie
This kiwi melon smoothie recipe, made from juicy, pale green Galia melon combined with the tart sweetness of kiwi fruit, makes a perfect, refreshing low calorie green smoothie.
Kiwis are notorious for getting lost at the bottom of the fruit bowl - if you have more than one sitting there then blend all of them together and freeze the extra in separate portions for later use. This not only saves you time but is more economical as you are less likely to have to dispose of too soft, over-ripe fruit.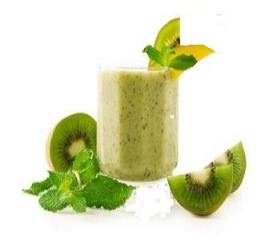 Ingredients
1 slice of Melon (Galia/Honeydew) approx 200g, deseeded and roughly chopped
1 kiwi, peeled and roughly chopped
Small bunch of grapes - approx 75 g
Juice of ½ lime
200 - 400g fresh aloe vera gel
Directions
Combine fruit in blender. Add a dash of ice water for easier blending. Blend until smooth and creamy.
Add aloe vera and lime juice and blend for a further 10 - 15 seconds.
Add ice or ice water to achieve desired consistency
Pour smoothie into glass and serve
Store remaining smoothie in glass jug in fridge for later
Variations
This green smoothie also works well substituting the grapes with a few slices of pineapple or a ripe pear.
A few fresh mint leaves whizzed in with this taste divine – great for mint aficionados
Watermelon Smoothie Recipe

Orange Mango Smoothie Recipe

Return from Kiwi Melon Smoothie to Fruit Smoothie Recipes Page

Return to the Soup and Smoothie Free Diet Plan

Return to the Soup and Smoothie Diet Homepage