Easy Strawberry Smoothie Recipe

Why not try making your own easy strawberry smoothie recipe with whatever smoothie strawberry ingredient you have in the refrigerator?
There are so many strawberry smoothie recipes you're sure to find one that uses the fruit you have on hand – everyone adores strawberry banana smoothies, or strawberry with kiwi.
However. to keep it simple, and to keep it red, why not try combining strawberries and raspberries with cantaloupe or try them together in a low calorie watermelon smoothie recipe. Guava is another amazing fruit for smoothies as it blends into a thick, luscious guava puree. Try this vitamin-packed guava strawberry smoothie next time you find fresh guava in your local store or market.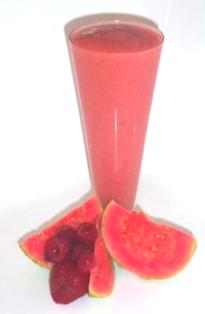 Preparation Time 10 minutes

Ingredients
2 Handfuls of Strawberries (fresh or frozen)
1 Handful fresh or frozen raspberries (optional)
3 fresh ripe guava fruits
250g fresh aloe vera gel
Ice/iced water

Directions
Wash berries and remove stalks and leaves from strawberries
Wash and peel guava
Blend all fruit in blender or smoothie machine until creamy, adding a dash of ice water if necessary
Add fresh aloe vera gel and blend for a further 10 - 15 seconds until all is incorporated
Add more ice water if necessary to achieve desired consistency
Serve, keeping remainder in refrigerator or try freezing fresh fruit smoothie for a later date.
I find guava seeds impossible to blend completely in a regular blender, so I would always sieve this smoothie before drinking to avoid mouthfuls of tiny seed pieces.
I reckon this is the one smoothie where a high-end blender such as a VitaMix would definitely come in handy!


More Tips on How to Make Fruit Smoothies


Learn more about the Health Benefits of Red Lycopene Foods


Return form Easy Strawberry Smoothie Recipe to the Soup and Smoothie Diet Homepage