Healthy Soup Recipes

These healthy soup recipes are ideal if you're trying to lose weight. A smooth, tasty vegetable soup is the perfect comfort food and by late afternoon that's often what many of us are ready for.
We know a cold, fresh smoothie is not going to hit the spot at that time of day - but a creamy soup will. Research supports the fact that this leaves us feeling satisfied and less inclined to binge on a range of unhealthy snacks.
On the soup and smoothie diet, instead of wondering what to cook for your evening meal, you know you have a smooth, rich soup to look forward to - the only decision you have to make is which nutritious soup recipe to choose from. All you need to remember is to colour-code your soups for a rainbow diet. Red soups, orange, green or purple - and remember to plan to contrast with your smoothie color for optimal nutrition.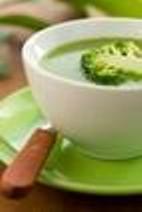 Easy soup recipes
These easy soup recipes included here are as simple to remember and cook as possible. There are no hard and fast rules when making soup, but don't forget to look at the tips for guidelines to ensuring your soups taste sensational. Feel free to adapt the recipes to suit your own tastes and to make use of the vegetables available to you. Be adventurous, or try looking through old recipe books to get ideas for more vegetable combinations or the use of herbs and spices.
You'll need either a hand-held immersion blender or a regular counter-top blender for these soup recipes.
If you don't already own a blender check out these tips for finding the best blender or how to compare blenders.



Small amounts of cream or yoghurt
These soup recipes call for the addition of small amount of cream, sour cream or yoghurt. Not only does this make the soups even more sumptious, but research shows that a small amount of saturated fat can help keep us feel satisfied for longer. Of course you can omit this or substitute soy milk if you prefer. As I add cream to the soups, I avoid using oil to cook the garlic, onion, etc at the beginning of each recipe. If you prefer a richer flavoured soup, you could try gently frying the ingredients first to release the flavours.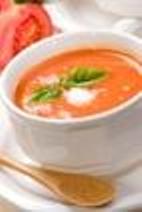 Soup is very quick and easy to prepare. With these easy homemade soup recipes your soup will be ready in less than 30 minutes. Most of the recipes are designed to make 3 - 4 servings, It's up to you how much of the cooking liquid you add, depending on the consistency you prefer. However, bear in mind that the denser the soup, the longer it will stay in your stomach and keep you feeling full for longer.If you are not feeding your family the soups, freeze the remaining portions in individual containers ready to reheat on busy days later in the week or to take to work with you. Once you have a few soups ready prepared in the freezer you can easily go for several days without needing to prepare more. Check here for more ideas on how to prepare and store soups.
Red Healthy Soup Recipes
Roasted Red Pepper Soup Recipe Orange Healthy Soup Recipes
Healthy Carrot and Coriander Soup

Healthy Green Soup Recipes
Cream of Spinach Soup
Cream of Broccoli Soup Recipe

Purple Soup Recipes
Healthy Beetroot Soup


Return from Healthy Soup Recipes to the Soup and Smoothie Diet Homepage