Roasted Red Pepper Soup Recipe

This delicious roasted red pepper soup recipe is incredibly easy to prepare. Roasting the peppers brings out their intense flavor, which contrasts well with the delicate aroma of basil.


The peppers break down to form a smooth, velvety texture on blending. Although it's not entirely necessary for an everyday soup, you'll find that serving the soup with sour cream or crème fraiche really does enhance its rich flavor. You can easily adapt this recipe by blending with a raw chilli or adding a few drops of tabasco for a fiery taste. Once you've perfected it, you'll find it's a great soup to serve to guests too!
Preparation Time Approx 45 minutes roasting followed by 10-15 minutes soup preparation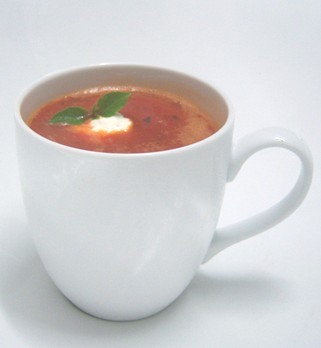 Ingredients
5-6 small-medium red peppers or 3-4 large (or as many as you can comfortable fit on your baking tray)

1 small-medium onion
1 medium bulb of garlic

Olive oil
Salt and freshly ground black pepper
Bunch of basil leaves

Skimmed milk/soy milk or vegetable stock
Sour cream or crème fraiche

Method
1. Preheat the oven to about 200/220c. Lightly grease the roasting tray and place in the oven to heat oil
2. Wash and quarter peppers, discarding the stalks and seeds. Place on the roasting tray with the whole unpeeled onion and garlic bulb
3. Roast for approx 30 mins. Check heat and roast for further 15 mins or until pepper skins start to char
4. Remove from the oven. Immediately seal the red peppers in plastic bag to sweat.
5. Remove skins from onion and garlic, roughly chop
6. Remove skin from peppers and place peppers in blender along with garlic and onion. Blend peppers, onions and garlic until smooth, slowly adding milk/stock until desired consistency is obtained
7. Reheat gently in saucepan and season well with salt and freshly ground black pepper.
8. Pour soup into bowl or mug. Add a small dollop (1 tsp. or so) of sour cream or crème fraiche and roughly chopped basil leaves just before serving.

Return from the Roasted Red Pepper Soup Recipe to Lycopene Foods

Return from the Roasted Red Pepper Soup Recipe to Healthy Soup Recipes


Return to the Soup and Smoothie Diet Plan