Best Smoothie Maker I've Used So Far!
I'm now on my best smoothie maker so far!
My trusty old Japanese Miyako blender finally gave up on me last week and I knew it was time to move on to a new blender/smoothie maker. So what and how did I choose ...?
Firstly, I had been more than satisfied with the simplicity and convenience of my old blender, used almost daily for the soup and smoothie healthy diet plan. However, this heavy usage took its toll on the motor and I had begun to realize that I definitely needed to upgrade to a more powerful appliance.
I'd read many blender and smoothie maker reviews and knew plenty about blenders for smoothies, but on the practical side I was limited to brands I could find in the Asian marketplace. Of the brands I found in the store, Philips was the one I was drawn too.
On display were the Philips HR2094 the Philips HR2071 models.
So how to choose between them? What blender features did I consider most important?
I actually felt that both these blenders were within my budget and that this time around I would be willing to spend on either of them. So I couldn't narrow down the choice based on price alone.
Looks – the HR2094 with its sleek aluminum base was certainly the more attractive model, a professional looking appliance with a modern design. At 600watts it was also more powerful than the 350 watt HR2071.
Capacity – both models have a good-sized 2 liter jug (1.5 liter effective capacity), slightly bigger than I was used to. Both had a 5-speed dial and ice-crushing function. So far, so good.
But there were features I noticed on the plainer HR2071 model that were not available on the more elegant HR20294 chrome model. Moreover, these were features I was used to using as they were present on my old, worn out blender.
The spatula to insert through the pitcher lid for example – did the more powerful model really not need one – did food never get caught in the blades or need scraping off the sides? I had previously found this type of spatula indispensable.
And what was that I spied in the corner of the counter? A citrus press attachment – that only fit on the cheaper model and not the more expensive model. Knowing how frequently I liked to add fresh orange juice to my healthy fruit smoothie recipes I thought this could prove to be a really handy addition.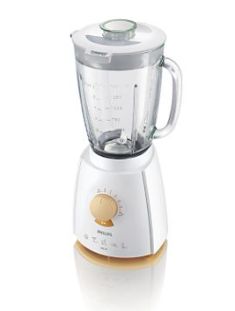 In fact I this was the feature that swung me and I was hooked on the Philips HR2071 blender. I was glad I'd waited a few months before investing in a new Philips blender. I was more aware of the features that suited my requirements and felt confident I was better able to make a good choice
So what was the verdict after I made my first batch of orange, carrot, pineapple smoothie.
Well, this is certainly the best smoothie maker I have used up to now. My oranges juiced in no time and the press easily squeezed out the last drop of juice from them – I wondered why I'd never bought an electric citrus press before.
The blender itself easily chopped my raw carrots on the pulse setting and a quick whiz with the orange juice added had the ingredients blended to a fine consistency in a very short time. By the time I'd blended in the fresh pineapple and fresh aloe vera
gel, I had one of my best ever homemade smoothies.
So for me, right now, this is the best smoothie maker I've used!


Return from Best Smoothie Maker to Best Blender

Return from Best Smoothie Maker to the Soup and Smoothie Diet Homepage