Buying a Breville Blender

If you're considering a Breville blender, a popular brand in Australia and the UK, you'll be looking to spend between US$150 - $400 depending on the model.
The current range of Breville Blenders includes the Ikon and the more powerful, larger capacity Professional Model, the Die Cast Hemisphere.

Breville 800BLXL (Professional/Hemisphere)
From US$200 -$400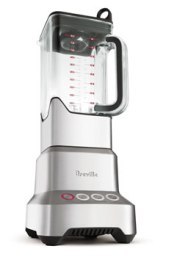 The Hemisphere 1000watt model is a sturdy, modern-looking machine with a huge 67oz (2 liter) capacity jug.
It has a stainless steel, semi-circular serrated blade. This sits in the bowl of the jug and is designed to ensure a consistent texture by minimising dead space where pieces of fruit or vegetable can get caught.
The powerful 1000watt motor is surprisingly quiet compared to other brands. It crushes ice quickly and easily and purees raw fruit and vegetables to a silky smooth consistency.
The dishwasher-safe, shatterproof polycarbonate jug has the advantage of being lighter than a glass jug when full. This is a big plus for a jug of this size.
As with other Breville liquidizers, the control unit is in the form of a hygienic, easy clean, crevice-free pad where it's impossible for spills and splashes to get trapped.
The majority of reviews for this model are extremely favorable - an appliance with the power and sleek look of much more expensive brands.
The only downside that appears in Breville customer reviews is the tendency noted by some users for an air-pocket to form around the blade during use – a minor complaint which does not detract from overall user satisfaction.
Specifications
Size
7 x 7¼ x 18¼"
Weight
11¼ lbs
Motor
1000watt
Capacity
64oz
Jar
Polycarbonate Plastic
Control Pad
2 speed settings

ice setting

smoothie setting

Warranty
2 year - Product

5 year - Motor
Return from Breville Blenders to Best Blenders
Return to the Soup and Smoothie Diet homepage